William Lyall Gray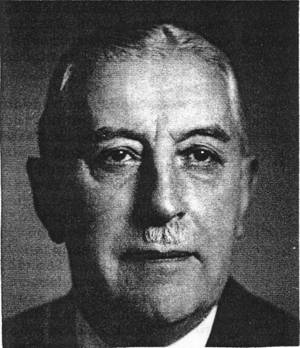 Aged ?
The fourth son Lyall was born in 1881. After the village school he went on to Mackie Academy, where he clearly did not enjoy the experience judging by the remark he made to his brother Alf in later life that a sign should have been erected over the entrance stating 'Abandon hope all ye who enter here'! However, he received sufficient schooling there to be accepted for a five year engineering apprenticeship at the Great North of Scotland Railway's locomotive works (then at Kittybrewster), the first of the five brothers to be so. During that time he played rugby and is recorded as scoring a try for Aberdeenshire 2nd XV against Peterhead in 1899.
Following the apprenticeship he secured employment with a prominent electrical engineering firm - Stone and Company - which sent him to Montreal, Canada. There he clearly prospered. The Canadian Pacific Railway was one of his firm's principal clients and the Company was thought to have been later involved in manufacturing the propellers for the large Cunard liners. In addition to his employment, Lyall set up some businesses of his own. One was the Auto Electric Company and another a company making batteries; he also had an interest in the Wabi Iron Works in Ontario. Although he was modest about his achievements he obviously became a very successful business man.
He married Elisabeth ('Bet') Jarvis whose father held a position in the Great North of Scotland Railway and he may have met her during his apprenticeship. Lyall and Bet lived in a residential area of Montreal, latterly in some style. A son (Edward) was born in 1911 and a daughter (Jean) a year later.
Lyall has been described as having an adventurous spirit and an attractive personality. He was taller than most of his brothers and handsome in appearance. His main interests were fishing, curling and golf which led him to buy a summer cottage on the edge of a golf course in Hudson Heights some 35 miles from Montreal. His daughter-in-law remembers many a fine dinner there with Ted, followed by 'competitive card games'. She also recalls that Lyall had said that as a child he had been very keen on ferrets and always had one he was raising. He also had a liking for smart cars and at one time owned a Stutz Bearcat Convertible. He is also remembered driving a Packard on one of his visits to the United Kingdom. (There seem to have been only two - 1924 and 1928). He died in 1965 in his eighty-fourth year.
Contributed by Gwen Gray the widow of his son Ted who was a Chartered Accountant in Montreal. His daughter Jean married James Hughes who was a business man in Toronto. Information also provided by Mrs Dorothy Gray.
A nephew, Ian Gray, writes:
I remember Uncle Lyall as my 'well-off' uncle primarily because he and his family took a suite at the Dorchester Hotel when visiting London in 1928. They came down to Herne Hill to see us and he certainly looked the part - immaculately dressed with a wing collar, carefully brushed iron grey hair and a clipped moustache. The children too were very well turned out. He and Aunt Bet were always very good to my parents and regularly sent them food parcels during the Second World War.
Leigh, one of his granddaughters, remembers two stories about him, both about his dog, a Yorkshire terrier named Sandy.
The first took place in Hudson (their country house): 'Grampa had trained Sandy to hunt for field mice. When my Grandmother would sit outside on their gallery, Sandy would proudly catch and kill a mouse and deliver it to her lap. She of course would be horrified but my Grandfather thought that it was very funny.
The second story also pertains to their house in Hudson which was located along the 16th hole of Whitlock Golf Course. Their hedged back yard was perfectly located for those golfers that didn't have a straight drive. Grampa would harvest hundreds of golf balls throughout a season. The reason golfers did not dare to go onto his property was due to a rather large sign "Beware of Dog". My Grandfather loved the fact that the "dangerous" dog was a small Yorkshire terrier!!'