Keabog and the Gray Connection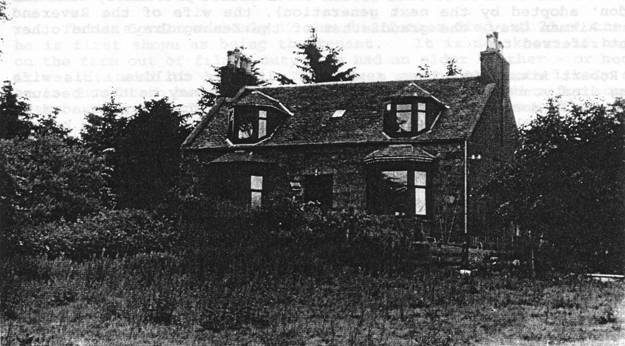 Keabog in 1993
The sixteen children of Thomas and Jessie Gray were all born with the help of a midwife in the farmhouse of Keabog which was added to the original farm buildings around 1868. A hill farm called Keabog (cow-bog?) seems to have been in existence since time immemorial. It stands at a height of 500 feet, over half a mile below the summit of Carmont Hill (774 feet) in the Parish of Glenbervie, some 31/2 miles north-east of Drumlithie, a village 8 miles south-west of Stonehaven in the county of Kincardineshire, which is 15 miles south of Aberdeen on the east coast of Scotland, see the map page.
The principal farm building - the stedding - was originally situated higher up Carmont Hill but was rebuilt in 1810 on its present site to improve the water supply. Between the two sites is a short shallow valley with a stream running through it and a path full of thistles and nettles; this is the area known as the Den (Craig Den on the Map) which was much frequented by the children for their games.
The early farm covered some 470 acres and was a mixture of sheep and crops: oats, potatoes and turnips. A few cows were kept for milk. The farming presented no great difficulties although it suffered in dry weather. In acreage and activity it remains much the same today although there are probably more cows.
As regards ownership, in the mid-80s the farm was part of the Glenbervie Estate, one of the principal estates in the parish of the same name and occupied on a tenancy basis. It appears on the first
Valuation Rolls introduced in 1862 as the farm of 'Keabog and Lambrae', the property of Mrs Badenoch Nicholson of Glenbervie Home Farm and tenanted by Mr David Murray. Unfortunately there is then a seven year gap in the Rolls and it is not until 1869/70 that they are resumed. In that edition the tenancy is shown in the names of Thomas Gordon, merchant, Aberdeen and 'the representatives of the Reverend A.A. (for which read 'R.A.') Gray'. However in view of the break, their tenancy could have begun anytime after 1862. Thomas Gordon was the brother of Jane Gordon (from whence presumably came the 'Gordon' adopted by the next generation), the wife of the Reverend Robert Aikman Gray, the grandfather of the Keabog Grays, the other tenant referred to.
Robert Aikman was then a widower with six children, his wife having died young at the age of 35 in 1857. It may be that because of her early death he decided to enter farming, or was persuaded by his brother-in-law to join him. Certainly in 1867, two years before his tenancy is first recorded he resigned from his offices for health reasons: he had a heart disease and it may be that this was the reason for his taking on or joining in the tenancy.
The Reverend Robert Aikman Gray was born in Airly in Angus in 1810 and took up teaching as his career, following his graduation from Marischal College, Aberdeen University in 1834. He taught Mathematics for 20 years in the Public Schools under Aberdeen's Town Council, where he was Head of the Commercial, Arithmetical and Mathematical School - and where the fee for an hour's tuition daily was 5s. a quarter - and later in the Grammar School, where the fee was a shilling more expensive! Latterly he was the Examiner in Navigation for Aberdeen Port under the Board of Trade's local Marine Board. He was clearly eminent in his field and was the author of a well known school text book entitled 'Gray's Arithmetic', now out of print. Before Keabog, he lived at Berryden House in Aberdeen. He died in 1868 of the heart disease which the year earlier had caused his retirement. His obituary states that he 'commanded universal respect for his attainments and varied accomplishments, and that many a one, beyond the wide circle of his private friends, to whom these accomplishments were best known, will regret to hear that he has been called away so suddenly at a time of life so comparatively early'. He was 58.
At about this time, it is thought that the farmhouse where the Keabog Grays were born and raised was built for the family; unfortunately it has not been possible to establish an actual date. The house is not shown on the Ordnance Survey map of 1868 and the Valuation Rolls do not list the house separately from the farm until 1885/86; and no Rolls were published between 1870 and 1873. However, Thomas Gordon Gray, who was the second son of Robert Aikman, and the father of the Keabog Grays, is shown as the tenant in the Rolls for 1873/74; the supposition therefore is that the house was probably built soon after his uncle and father took on the tenancy.
The farmhouse was constructed alongside the stedding, 200 yards or so to the east of it; there is an open field in front and a small copse surrounds it. It is approached uphill by a short drive and the combination of the trees and the sandstone blocks of which it is built today give the house a rather forbidding appearance as it comes into view. A track of about 2/3 mile leads down to a junction of five minor roads and tracks.
The house had two storeys with four bedrooms upstairs and on the ground floor another bedroom with a kitchen, bathroom, lounge or study, and two small rooms, one of which was used as a dairy at some time.
Thomas Gordon was only 17 when his father died and 21 at the time he is first shown as being the tenant. It is not known if he took on the farm out of filial duty - he had an elder brother - or because it was his wish to do so. The former may be the more likely since he is thought to have earlier undertaken medical studies for some two years at Aberdeen University, although there is no record of this.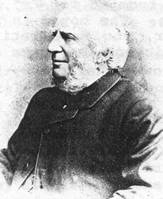 Thomas Gordon Gray in 1900
The farm was clearly his principal occupation (it is not known how many men he employed) but he also worked as a local livestock auctioneer for much of his working life though this would probably not have involved more than a day or so a week. His obituary records that he was for many years auctioneer and manager of the market at Laurencekirk, a small town some 10 miles south of Keabog, which with two other local farmers he had founded.
It also states that 'he was recognised as a good judge of stock and also as a practical arbiter, his services being much sought after in that capacity'. For a number of years, he was also a member of the Glenbervie School Board and Parish Council and an elder and Session Clerk of the United Free Church, Drumlithie'.
In 1875 he married Jessie Calder Smith who was then 18 - he was 23 - the second oldest of ten children of James and Isabella Smith of Pittengardner, a village between 'Drumlithie and Laurencekirk. She was therefore no stranger to large families. Her father was a well known and respected man. He was primarily a sheep dealer and at the time of the marriage was farming 243 acres at Pittengardner and employing seven labourers and two boys. He died there in 1911 when he was 83. Jessie's childbearing record and her own longevity indicate a physical toughness which was reflected in her character and personality and although she seems to have left much of the upbringing of the younger children to the older ones (partly no doubt because she was regularly bearing and nursing the latest) she was a strict disciplinarian, a stringent housekeeper and possessive of her sons; in the practice of the times, she expected them to contribute to the family income to the maximum they could. Prospective daughters-in-law tended to be regarded as something of a threat.
Thomas and Jessie remained at Keabog until Thomas's health failed and he gradually became immobilised by arthritis. They moved in 1911 to Oak Villa, a medium sized house in a terrace in Stonehaven where they spent the First World War. They had lived at Keabog for over 36 years, during which time the Keabog Grays had been born and raised. (Ronald the youngest was 9 when they moved to Oak Villa). Jessie apparently used to make much of being the mother of such a large family to which Thomas was wont to reply that it was he who gave her the idea!
Thomas died at Oak Villa in 1924 of arterio-schlerosis, aged 73. In his obituary, he is said to have been of a genial disposition and highly respected; and a keen curler and sportsman.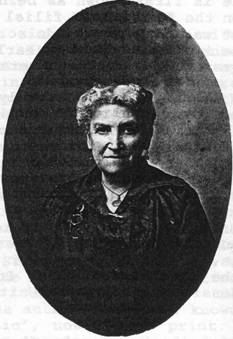 Jessie Gray in 1919
Shortly after his death, Jessie moved to London with Ada and Ronald to a small semi-detached house in a residential road in West Dulwich close to where Gordon lived. When Ada married almost immediately after the move, Jessie employed a housekeeper - Louise Philman - who was with her until she died in 1936, a month short of her 80th birthday. In her later years she was helped financially by those of her offspring who were able to do so and this was reflected in her Will in which the residue of her estate was divided between those sons and daughters in the proportion of their contributions in her lifetime. Thomas and Jessie are both buried together in Fetteresso cemetery, Stonehaven.
After Thomas and Jessie relinquished the tenancy of Keabog, the ownership passed to Mr James Scott and the tenancy first to Mr George W Murray and then to Mr William Glass. Five years ago, the Glass family bought the farm and sold off the house and three acres from it for £97,000 and gave it the separate name of Lambroos Keabog. The house is now occupied by an English couple, Mr and Mrs Ryder, who have retired there from Southend-on-Sea, Essex. They keep chickens and goats and have 1/z acre under cultivation.