Thomas Gordon Gray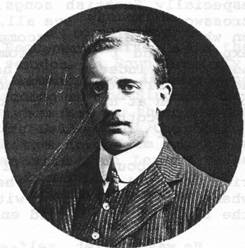 Aged 35
My father was born on 20 April 1877 and, as the eldest son, was named after his father. After the village school at Drumlithie he was a pupil at Robert Gordon's College in Aberdeen and at the age of 16 went from there into employment unlike most of his younger brothers who received further education before taking up careers. Why this was so I do not know and regret not having asked him (as indeed I do many things about his life which are now unlikely to be discovered); whether it was because as the first potential breadwinner he was required to contribute to the family income or whether he felt he had a responsibility so to do (this latter view has the support of my Aunt Dot), he went to work for an Auctioneers in Aberdeen. How long he worked there is also not known but he seems to have lived mainly at home during this period, playing a major role with his sister Ella in bringing up the younger members of the family (it is said that when these misbehaved they were threatened with 'I will tell Gordon'!)
He played rugby for Aberdeenshire and among the press cuttings that he kept and which I have is stated 'Gordon Gray's tackling told severely . . . ' and 'G. Gray played well forward' . He is also believed to have driven a flock of sheep down the old Drover's Way from Aberdeen to London, a daunting prospect today but apparently a not uncommon occurrence then.
Somewhere around the turn of the century when he was 25 or so, he decided to seek his fortune in London and probably through his auctioneering contacts, joined Smithfield Market, the main meat market in the Capital where in fact he spent the rest of his working life as a wholesale meat salesman. He lived as a bachelor in Islington where he continued his enthusiasm for rugby, turning out for one of Upper Clapton's teams, then a leading London Club. He met my mother, Gladys Clements, who came from Bedford, at the wedding in Sileby of his brother James to whom he was best man; her godmother Mrs Dalley was the wife of Dr Dalley in the neighbouring village of Syston for whom James had first worked and from whom he had then bought the Sileby part of the latter's practice. My parents married in 1912 and honeymooned in Rothesay on the Isle of Bute where curiously some thirty years later, I, as a young Second Lieutenant, took part in an early experiment of landing tanks from specially designed craft. They first set up home in West Dulwich where they lived throughout the First World War, during which my Father, who was in a reserved occupation, served as a Special Constable (I still have his truncheon), and my mother as a VAD in a hospital for the wounded at Crystal Palace. Both I and my sister Mary were born while they were at that house. In 1924 we moved to a quieter road on the Dulwich College Estate in Herne Hill where my parents lived until my Mother's death in 1960.
During the long years of my father's employment at Smithfield Market he made a number of attempts to improve his position and thereby his salary by moving to other wholesale firms, so many in fact that I believe they may have been counter-productive. There was never much money, though a housemaid was afforded for a while, and my parents made a great many sacrifices to enable Mary and myself to be educated at private schools. His routine never seemed to vary and the running of the household revolved around his unsociable hours of work. He would leave the house at 3 a.m. to walk to the station for the train to the City and return about 2 p.m. After something to eat he would go to sleep over a newspaper in an armchair until teatime and then go to bed after some supper around 9 p.m. Rarely did the rest of us eat or spend much time with him during the week; the weekends when Sunday lunch was a feature were our main time for contact. Even on Sundays though, our ways parted when we went to Church; he never came with us, having had, we understood, a surfeit of attending when he was a boy.
In these circumstances, it is perhaps not surprising that Mary and I were primarily brought up by my Mother, although both she and we conformed pretty strictly to Father's habits and requirements. (To our peril we were forbidden to make any noise to disturb his sleeping in the afternoons - though I never remember his complaining if we lapsed as surely we must have done sometimes).
Since his death, I have tried often to assess whether he was happy in his life. Certainly he never said otherwise and appeared to be content though never overtly happy. He remained keenly interested in rugby and used to take me to see London Welsh play (then locally) and to internationals at Twickenham. I think he must have been disappointed that I was at a soccer-playing school. He continued to play golf, being collected (we never owned a car) by a work colleague at an early hour on Saturday mornings (taking me when I was older). He enjoyed variety and other light entertainment, especially Scottish songs, on the wireless. He was also a keen crossword man. Above all, he relished his rare holidays to Scotland on which we did not accompany him, presumably mainly because of the expense, and I infer from this that he was never really happy in London or indeed would have been in any City. He often spoke nostalgically of his boyhood days at Keabog. I believe he was a countryman at heart and hankered after Scotland. He certainly never lost his Scottishness; he retained his accent and used the Scottish vernacular eg children were always 'bairns'.
From about 1925 until her death in 1938 Granny Gray lived a bus ride away and he visited her at least once a week usually on a Friday when they played bridge with our family doctor, with myself making up the four when I was old enough.
He was a quiet, self-effacing, private man and spoke little; but he was kind, generous and caring, not least to Mary and me. I treasure two incidents indicative of this: once when he suggested we had a (unique) drink together in a pub shortly after I was called up for the war and the other when he came up to Paddington to see me off and wish me luck as I set off to sit the Board for my Regular Commission. He had a very good sense of humour and a fund of stories and would go into uncontrollable fits of laughter that brought tears to his eyes when tickled by some joke or other. He was very popular with his colleagues at work - who called him Tom or Dolly - as I saw for myself on visits to him at the Market.
In stature he was of medium height and portly (at one time he weighed 17 stone). It is therefore somewhat difficult to believe that as an infant he had been so puny that there had been fears for his survival. As was the custom of the day, he was fed copious draughts of cod liver oil until allegedly everything about him smelt of fish! But the treatment succeeded and he rapidly gained in weight. He had bright, light blue eyes which wrinkled when he laughed. He was fair skinned, had small feet, good nails and was bald from an early age. He loved porridge provided it was made with proper oatmeal and ate it mixed with salt from a spoon which he alternately filled with cold milk from a separate bowl; he spread jam straight on to bread and eschewed butter and the like. He rarely drank, but was a fairly heavy smoker, both pipe and cigarettes, latterly rolling his own.
In the Second World War, both my parents were fire-watchers during the London Blitz and dealt with incendiary bombs on the roof on at least one occasion. They used a cupboard under the stairs as their air-raid shelter. When I went home on leave, I remember being so proud and full of admiration for their bravery.
Life became increasingly difficult for them both from then on. My father retired but was plagued by arthritis in his legs and shoulders and my mother developed angina. Following her very sudden death in 1960, my father lived with Mary at Horsham and I at Camberley alternately until his mobility so deteriorated that he had to go into a Nursing Home in Sutton, where he died in 1963 at the age of 86. His ashes rest in his parents' grave in Fetteresso cemetery, Stonehaven.
Mary, my sister, served in the Red Cross in India and Singapore during the Second World War and married George Barnes, my best friend at school. He like me served in the Royal Corps of Signals before joining the British Standards Institute from which he finally retired in 1982. They settled in Horsham, Sussex.
Contributed by his son, Ian.
Ian took a Regular Commission in the Royal Corps of Signals following his war service in Egypt, Sicily, Italy and North West Europe. He married Joy Rushton in 1944 and together they served in Egypt, France, Cyprus, Aden and Singapore as well as in the United Kingdom before he retired in the rank of Brigadier in 1973. He was then Secretary of the Royal College of Defence Studies for 10 years before finally retiring from full time employment in 1983. He and his wife have lived in London since 1972.
Mary, his daughter, adds:
I can add very little to what Ian has already said about our childhood days. I continued to live at home for much of the war, during which time my father maintained his interest in sport, mainly rugby. On Saturday afternoons our routine was to set out early for a match at Richmond before which we always went into the local pub where he reminisced on many things.
I believe he played a good game of golf. I have in my possession medals he won in 1909 at the Royal Epping Forest Golf Club.
As his health deteriorated his main interest was in crossword puzzles, and I well remember his delight when a complex clue was solved.
He will be remembered for his devotion to his brothers and sisters as well as his own family, and for his abiding love for Scotland.