Patrick Barnett Gray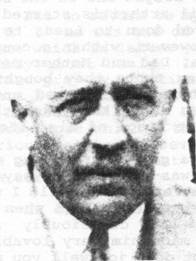 Aged 50
Patrick was seventh in the family and the sixth son, born on 24th December 1884 - a Christmas present!
Like all members of the Gray family he went to Glenbervie School in Drumlithie and then, like most, on to Mackie Academy. After Mackie Academy, Pat, as he was known, followed in Lyall and Bert's footsteps by being apprenticed to the Great North of Scotland Railway's Locomotive Works, first at Kittybrewster and then at Inverurie when the new Works opened there. One of his first jobs was to make his own tools, some of which he still had when he died. They had P.B.G. etched on them: chisels, rules and calipers.
While he was still at home he played rugby and was also a member of the Fife and Forfar Yeomanry, going to summer camps which involved supplying his own horse, provided by his Father. Doubtless this stood him in good stead for his Polo days.
I have an idea that Uncle Barnett (an uncle by marriage from whom his second name came) was involved in his going to India as an assistant manager on a tea garden. His engineering training was invaluable to maintain the machinery involved in tea production.
It was while he was home on leave in 1918 that he met my Mother Janet Fraser who was working in Stonehaven at the time, primarily through Pat's brother Ron who also worked there. She became friendly with the Grays who were a -very musical family and used to sing with them. They had musical evenings when the members all had to contribute something. It must have been a whirlwind courtship as Dad only had 6 months' leave!
My brother - also Patrick - was born in 1919 and sometime between then and 1921, my Father left tea planting and went to Canada, somewhere on the West side. He had a friend who had gone there who had written telling him how marvellous it was; so Dad went intending to farm. He seems to have had this at the back of his mind always as he also thought of getting a farm when he retired. However, he hated the area of Canada he went to; he used to tell me the sun appeared over the mountains at about 7 or 8 in the morning and disappeared at 12 noon. He said he could not stand it. (There was probably more involved but he never told me.) He then went to his brother Bert in Montreal, sending my Mother and Patrick home to Aberdeen. I believed he stayed with Uncle Bert and Auntie Marie for about 6 months while trying to get another job in India.
He eventually went back to India in the same district as before I believe - Sibsagar - but it may have been a different Tea Company. My Mother returned to India in 1922 or early 1923 leaving Patrick with his Grandmother in Aberdeen. While in India my Father was a member of the Assam Valley Light Horse and played Polo with a very successful team in different districts of Assam winning umpteen silver cups.
By the time he retired in 1947 he had been in India for 40 years. He was one of the most respected Managers in the District, and his word was his bond for everyone, whatever their colour. He loved the Indians, both his workers and the more educated ones provided they did not have a superiority complex. If one of his workers misbehaved in some way he would ask them if they would take his punishment or would prefer he informed the police, which would probably have involved a court appearance. They usually took his punishment as they knew that once it was meted out the matter was finished. He made himself approachable and his bungalow was open house to any traveller who happened to be passing by and dropped in. During the war, Americans used to call; often they would leave cans of beer in his 'fridge for when they returned that way and always left some for him.
He had five leaves that I know of - 1918, 1930, 1934 and 1938 - all of six months' duration except the last in 1945 which was for three months because of the war.
During the war and just after it when spares for his Hillman Minx and parts for factory machinery were unavailable, he manufactured them himself. His training as an apprentice stood him in very good stead for this. But he was always very innovative; no job was too difficult for him and he trained his factory engineers to be the same.
I think he hated leaving India, despite its problems. He did not like the thought of Partition or of Indian rule or of the aimless lives retired Britons seemed to lead there. He had seen too much of how many of the Indian ruling class treated the workers. He used to say that only money talked, and that if you wanted to win a court case in India you had to have the most money to win - by bribery! His Indian staff all loved him and told him there would be no fairness after he left; they did not look forward to being dealt with by their own people. His office staff organised a farewell presentation, by the end of which all the Indians - all men - were crying. It was a very moving farewell for everyone.
On his retirement in 1947 he rented a house in Tornaveen, near Torphins in Aberdeenshire, and later that year bought one in the same village. He stayed here for some years until arthritis started to curtail his gardening activities when he moved down to Leeds to be near my Mother's sister and her husband. However, within a couple of years when the latter went out to Rhodesia, Dad and Mother moved to Forest Row in Sussex. After about a year there they bought a house in Ottershaw near Woking in Surrey where they stayed until finally moving to Winchester in 1962. It was about this time that I learnt he had been a practising Mason at some stage of his life.
My Father was one of the best. He was a generous, loving and caring man and the only one I have known who was prepared to say he loved his friends, of which he had many. As a very young child I was very close to him and later when he was home on leave and when he ultimately retired, I learnt a lot from him consciously and unconsciously. His sense of fun and humour made him very lovable. One of his favourite sayings was 'if you cannot do a job well you may as well not do it at all'. He was a stickler for giving his all to a job however menial. When young I used to get a bit impatient with this as it took so long! In his 'book' there was never any need to tell downright lies. I remember after one of our excursions to the Caledonian Hotel to meet his Indian cronies he said to me 'Now, Margaret, there's never any need to tell lies. If Mother asks you how many ginger beers you've had, just say I couldn't tell you. ' This may seem rather crafty and perhaps on this occasion it maybe was but he believed in utter truth provided it did not hurt anyone. He was very close to his Father and told me many stories about him and his childhood. He could talk to his Father who advised him about things rather than laying down the law; and therefrom came another of his sayings - if you cannot talk good of your parents don't talk about them at all'. From this I gathered that he and his Mother did not hit it off too well. He told me she was a stickler - not really surprising with a family of 16! - and remarked that she was mostly in bed, while poor Ella did everything; but she knew exactly what was going on. She would suddenly say in a loud voice 'Bert, come out of that cupboard', and sure enough Bert was at the cupboard!
Grandfather Gray was much respected and well known through his work as an auctioneer at the local auctions particularly Laurencekirk. A friend, who knew Dad in India, went along to see him at Keabog and his Father's opening gambit was 'you know I have a family of daughters and 12 sons'! Dad told me he used to go into Aberdeen to John A Dunn and Co. and buy 12 pairs of boots and shoes at a time.
My Father also used to tell stories about the Reverend William Fairweather who was a relative of his Mother's: one such concerned the said Reverend fishing in the river wearing long waders when the water bailiff came along and chastised him hotly for fishing in the laird's part of the river. To which he replied that the Lord gave us the land and rivers for everyone to use and anyway did he not know who he was? The bailiff replied he did not - to which Uncle William replied 'I am the Reverend William Fairweather and I am not responsible for your ignorance'!
Uncle William was apparently a tall, well built man and usually carried a cudgel-like stick when walking. A second story relates to a day when he was walking into Laurencekirk in the gloaming across some open moorland when he was accosted by a footpad who asked for his money. Again he drew himself up and asked 'Do you know who I am? I am the Reverend William Fairweather' and with that set about the man with his stick. Retreat was the better part of valour for the robber and he ran off!
But to return to my Father. I ought to say what he looked like. At 5' 5" he was one of the smaller Grays. He had a tough powerful frame which in latter years became a bit rotund but there was nothing flabby about him. In his youth he had jet black hair which had turned grey by the time he was 30 and was wavy and white for all the years I remember him. India browned his already dark skin just as it did Uncle Alf's. He had big grey eyes with speckles in them and a Gray nose which I think belonged to Granny Gray. He looked very serious merging on severe until he smiled when his whole face lit up and one realised that there was a joyous sense of humour underneath the seriousness.
He died in hospital in Winchester in 1970.
Contributed by Margaret Crowther (nee Gray) his daughter.
Margaret married Ernest Crowther, a teacher but subsequently divorced him. Her brother Patrick was an engineer who emigrated to Australia and died there. He had three marriages.
Ian Gray, a nephew, writes:
I visited my Uncle Pat on several occasions during the latter years of his life and always enjoyed his company. Ebullient, warm and welcoming, he was a great tease and leg-puller. But I recall him best from the first time I met him when he and Aunt Janet visited us in London on his leave from India in 1924 when I was 13. I was fascinated by his shock of snowy white hair and impressed by him altogether. If all tea planters are like this, I thought, what a breed they must be and I was especially taken with his plus-fours and woollen stockings! He had hired a car - a large tourer - and to give us a treat, I suspect, rather than for their own benefit, he and Aunt Janet took my parents, Mary, my Sister, and I to Bournemouth for the day. I remember the sunshine (of course!), the sandy beach on which the grown ups sat in deck chairs but above all the car ride there and back. It was a rare experience for our family to travel in a car and for me it was the longest journey I had so far undertaken. But I remember him for other kindnesses as well and I had a strong affection for him.