Jessie Muriel Gordon Thomson (nee Gray)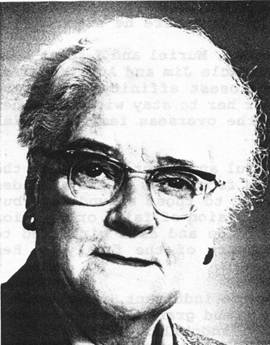 In her late 60s
Born the 13th child of the Gray family - was this an unlucky omen? Sadly, yes.
Although the youngest of the family to marry (when she was 27 years old) she enjoyed only twelve years of married life and was a widow for thirty-nine years - half her life. She sold the five bed-roomed family house in Arbroath just after the '39-'45 war as it was clearly much bigger than she needed when all the family had left home and only she and our faithful old house-keeper remained; but she could not make up her mind where she wanted to live and deferred buying another home while trying to decide. Unfortunately house prices rose sharply and she then found that she could not buy any reasonable house for the money available. So that for the last 25 years of her life she had no home of her own and lived either with Uncle Jim and Aunt Margaret in Sileby (1946-51) or Uncle Alf in Bieldside, Aberdeen after Aunt Nan had died (1951-52), then with my sister Muriel and her doctor husband, Wallace, in various homes in England and Germany when Wallace was doing National Service and finally with them in Durham (1952-71) where she died of a massive heart attack just four days before her 78th birthday.
My father, Ernest Thomson, a rubber planter in Sumatra, retired in 1928 at the age of 46, presumably thinking that his savings and investments would be adequate for the future needs of the family; then came the Stock Exchange crash of 1929 and the depression of 1931 and father's investments, mostly in shares in rubber companies, the industry he knew best, were so reduced in value that when he died in 1932, Mother was left with £2,000 and the house - but no pension - on which to bring us up (in addition to Muriel and me there were also two half-brothers and a half-sister from my Father's first marriage). It was a struggle for her all the way and made her a careful manager of money.
Life, therefore, was hard for her during her 39 years of widowhood but she was not embittered by the hardships and did not parade her sorrows, although within herself she must have often felt very sad and, perhaps, a little overwhelmed by the responsibilities thrust upon her, particularly in the early years. Decision making did not come easily to her.
She had a good, earthy sense of humour - redolent of life on the farm. She loved a good joke and responded with an infectious, uninhibited laugh, which frequently reduced her to copious tears. Particularly vivid memories of this happy aspect of her character stem from visits made by Uncle Andy and Aunt Lisette to us in Arbroath around 1936/7 when they came touring in Scotland. Uncle Andy and Mother sparked each other off in story-telling of their Keabog days and no doubt vied with each other in the "tallness" of some of the tales. These stories were given added value by an actual expedition to Keabog where we tramped through the "Den" and climbed the hill from the top of which a large mill-stone was reputedly rolled down, creating much alarm lest it run all the way to Drumlithie and knock down its steeple, a mile or two away!
Life on the farm seems to have been a happy time, although there must have been a great deal of cooperative effort to look after the steady stream of new births. The family appear to have moved from Keabog to Stonehaven in 1911 and after Grandfather Gray's death in late 1924, to London around 1925. Mother attended Mackie Academy in Stonehaven which was about six miles from Keabog but I recall little ever being said of her school days. It would seem that after school she stayed at home helping there as we never heard of any other occupation or training.
A visit was certainly made to Canada to stay for a few months with Uncle Lyall and Aunt Bet in Montreal, probably just before the 1914-18 war. This was always recalled as a happy visit. In 1953 she returned for a second visit which again was much enjoyed.
She met Father in 1918 or '19 when he was on leave from Sumatra where he was manager of a rubber plantation in the same company, Harrisons and Crosfield, which employed Uncle Douglas Gray. Father's first wife had died either in childbirth or shortly thereafter, leaving two sons, aged 5 and 4, and an infant daughter. Father, who came from Forfar, seems to have visited Douglas and the family at Keabog, met Mother and persuaded her to share his life in Sumatra. She sailed out to the, then, Federated Malay States in 1920 and was married on 31st July in Penang before moving across to the estate in Sumatra. These were the good days; married to a man who was recognised as a very good gentle person by all who knew him, living very comfortably in a large estate bungalow with servants to take the drudgery out of housekeeping on the salary of a senior manager in the company and enjoying the social life of the East. These good times lasted but eight years, then it was back to Arbroath on Father's retirement for only a little over three years before he died.
For several years in the mid-30's Mother, Muriel and I spent some very happy summer holidays at Sileby with Uncle Jim and Aunt Margaret with whom Mother seems to have had the closest affinity within the family in Britain and so it was natural for her to stay with them when she was homeless in the early 50s. Of the overseas family I think we heard most of Uncle Lyall and Aunt Bet.
Mother was kind and gentle, very helpful and practical around the house; she had learned more from life than from books. She attended church regularly and was a caring neighbour to those around her, but there was, sadly, little or no talk or discussion of faith or religion in the family. She had a good soprano voice and as a girl used to enjoy making music with Uncle Ron and others of the family. Her tastes were for ballads and light opera.
She was a good mother to us, probably too indulgent (particularly of me, the youngest of the family!) and a proud grandmother, although inclined to have her favourites among the grandchildren. As always, I regret that I did not give her anything like adequate thanks for all she was to us, in her lifetime. Then it was too late. Sorry Mother.
Contributed by her son Gordon.
Gordon served in the Fleet Air Arm for the last three years of the Second World War as an Observer, then spent the rest of his working life in Barclays Bank International serving in East Africa and Nigeria as well as in the UK, and becoming London-based General Manager for the Far East and Australasia before retiring in 1981. He and his wife Mona have lived in Sussex since 1967. He was made a CBE for his services to Britain when serving in Nigeria in 1964).
Peggie Heath nee Gray writes:
The Aunt we saw most of was Muriel, who in her widowhood spent weeks at a time at Sileby, both at Dunnottar and after my parents' deaths with Harry and me. My children were very fond of her and she had marvellous patience and good humour with small children. To this day I make use of various little housekeeping tips she gave me, some of which she picked up from her daughter-in-law Mona. For example, if I put the washing out on a dull, damp day I can hear her saying 'Nae drooth the day'!
Ian Gray, one of her nephews, adds:
When I was serving in Catterick Camp in 1946/7, Joy and I lived in a married quarter which was one of the homes where Aunt Nan spent some of her time. Our first child was then 18 months or so and Aunt Nan was a great help to Joy. She did a share of the household chores and acted as baby-sitter when one was needed. She was a strong character and not averse to correcting my behaviour if she thought it wrong! But she was warm-hearted, easy to get on with and lively company. We greatly enjoyed her times with us.