Isabella Mackenzie (nee Gray)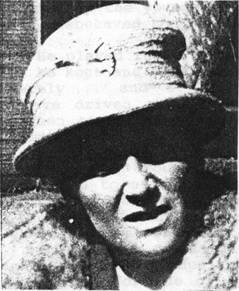 Aged 44
Isabella - Ella as she was called - was born in 1876, the year in which the telephone was invented. She was the first of the family to be raised at Keabog. After attending the village school in Glenbervie she is thought to have spent some time at a private educational establishment some distance away; this was probably not a boarding school and she would have stayed with friends or in lodgings. However, from an early age, she helped her parents at home and as more children arrived and the family grew, she played an ever increasing part in their upbringing; indeed, it was said by her brother Douglas in later years that 'she brought the family up' and that the younger children (of which he was one) took more notice of her and Gordon, her eldest brother, than they did of their parents! But she is also remembered as a 'very gentle, most kind and lovely person' and it was therefore particularly sad that she did not live to bring up her own child. She had dark brown hair and as with almost all her brothers and sisters she was nearer 5 foot than 6 in height. She apparently also had tiny feet necessitating size 2 shoes.
Sometime in her thirties she is thought to have gone out to Rhodesia as a companion or governess to a farming family where she met Martin Mackenzie, also a farmer, her future husband. He was the second son of a family who owned a distillery and a small estate at Dalmore, Invernesshire. She married him in Salisbury (now Harare), Rhodesia in 1915 when she was 39 and joined him on his farm at Rhodesdale Estate, Umvuma, not far from Salisbury. A girl Anne was born to them in 1916 but she died in the same year, due it is alleged to the primitive hospital facilities existing at that time. The shock of the loss of her child turned Ella's hair white overnight. A son Kenneth was born in 1918 and some two years later she and Martin came home on leave, bringing Kenneth with them, and took lodgings in Stonehaven. There is a suggestion that the leave was more in the nature of a recuperation for Ella since she had caught Asian flu' shortly after Kenneth's birth and could not shake it off in the local climate; this is perhaps borne out by Martin's return to Rhodesia leaving Ella and Kenneth in Stonehaven. Be this as it may, Ella died of heart disease during this period. She was just 45 and had been married only six years. Curiously, on the day that she died, little Kenneth aged 3 was found wandering at ten in the morning on a pathway leading to the river by Elisabeth Thomson (later to become Douglas's wife) near to her father's office and returned home by her. He was not in the habit of doing this, and could give no explanation as to why he was there. A possible reason is that he slipped out in the midst of the concern over his mother's imminent demise. He was subsequently taken back to his father in Rhodesia by his father's sister and a friend.
Martin later remarried but seems to have tried to put Ella and indeed his own family out of his mind. He did not speak of her to Kenneth as the latter grew up and although Kenneth's Aunt Ada Thom (nee Gray) kept up a tenuous correspondence with him over the years, it was only when he visited this country in 1978 and met several of his cousins that (as he said) he was able to come to feel he was a Gray.
For many years he ran a Television Repair and Rental business in Salisbury but moved on retirement to Cape Town.
Contributed by Kenneth Mackenzie and Mrs Douglas Gray