Douglas George Gray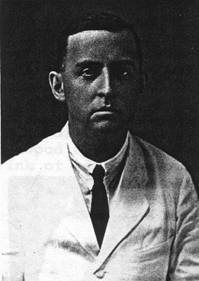 Aged ?
Douglas, who was born in 1889, was the ninth son of Thomas and Jessie Gray. He attended, firstly, Glenbervie school and then went on to Mackie Academy. Upon leaving the Academy aged 15 he followed his brother Charlie and was apprenticed to the railway works in Inverurie.
As a grown man he was of medium build with dark curly hair and hazel eyes. He was always clean-shaven. On the whole, the Gray boys were of short stature but there were a few exceptions. Douglas was about 5' 9½" tall.
Douglas decided not to pursue a profession with the railways but to follow Charlie and embark on a career as a rubber planter. He joined the firm of Harrison and Crossfield and was posted to a plantation in Sumatra, whence he sailed on the twelfth of December 1912 - 12.12.12. He was attached to Ernest Thomson, his sister Muriel's future husband, but, within a month of starting, he was summoned to the head office in Medan; he went there in some trepidation as he wondered what he could have done to be summoned by the boss. Unfortunately it was to be told that his brother Charlie had been murdered on another estate.
In 1925 Douglas married Elizabeth Jane Fraser Thomson, daughter of Alexander Thomson, a local building contractor, who was the Provost of Stonehaven for many years. In 1926 a son was born and in 1928 a daughter.
The children were both born in Sumatra. Douglas was granted leave in 1931 and the family sailed for Scotland. When Douglas's leave had expired, the boy, Douglas Alexander, known as Sandy, was left in the care of his Uncle Jim in Sileby. The girl, Jean Gordon, sailed back with her parents to Sumatra, and returned to Scotland for further schooling when she was eight.
Douglas and his wife continued to enjoy the good life in Sumatra until, in 1942, whilst Douglas was working his last contract for the firm and looking forward to retirement, the Japanese invaded the island. Elizabeth was fortunate to obtain the last seat on one of the last planes to fly out of Sumatra. She flew to Australia and spent a little time in Ormiston where her brother-in-law Cecil and his family made her very welcome. Later she shared a flat in Sydney with a friend before getting a berth on a merchant ship sailing to Liverpool via the Panama Canal and New York. The trip from Australia to the United States was uneventful but that from New York, in convoy across the Atlantic, was more, interesting because it was fraught with the danger of being torpedoed.
Douglas, of course, had remained at work on the estate. When the Japanese arrived he was interned in a prison camp until the end of the war. It was only after the end of hostilities with Japan that his wife and family heard that he was still alive. They lost all their possessions in Sumatra but Douglas went back for 3½ years to help to reactivate and restore the rubber industry on the island.
On this occasion he was not accompanied by his wife, as the country was in turmoil with the Communists fighting for power and it was deemed to be unsafe. In 1951 he returned to Stonehaven, where he spent his remaining years. Despite enduring the conditions of a prison camp and long separations from his wife and family, Douglas accepted his lot philosophically.
Douglas was a family man. He was very mindful of his parents and he was a good father and grandfather who was greatly loved by his grandchildren. He loved animals, especially dogs, and cars and clocks of all shapes and sizes. He was a very keen golfer, he loved to watch football and he was a most formidable bridge player.
Douglas died in April 1967.
Contributed by Jean Jennison, his daughter.
Jean studied physiotherapy at Manchester Royal Infirmary and then worked at Aberdeen Royal Infirmary. She married Roger Clifton Jennison, who was Professor of Physical Electronics and Radio Astronomy at Kent University when he retired. They live in Canterbury, Kent. Douglas's son Sandy took an engineering degree at Aberdeen University and married Alyne Davidson at which time he was employed by Callander Cables. He sadly died of leukaemia at the early age of 44 shortly after his father.