Cecil Gordon Gray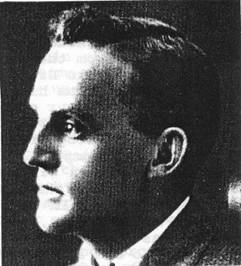 Aged ?
Above all else, Dad - Cecil Gordon (or Don as he was generally known in Australia) - was a caring, loving father and a gentle man who liked nothing better than to share a good story and joke. He was a very sociable person, not averse to pulling an odd leg or two!
None of us can remember his ever having raised a hand (or even his voice) to us as children; or recall any domestic arguments with Mother (Catherine Mary nee Atkins and called Molly). While Mum did most of the disciplining, she usually had more pressing things to do and Jean and Ted can remember only one half-decent belting - for throwing stones at Mrs ("Mother") Moore's bull.
Regrettably, the eight-acre farm at Ormiston on the outskirts of Brisbane that Dad bought from Thomas Spence in 1926 didn't provoke much levity. In Dad's words, working it was a "mug's game" that required six and a half days' toil per week for little financial reward. This was especially so during the Great Depression (for several years of which Dad and Mum were forced to rent out the farm and go to New South Wales to manage a general store in Goolagong) and up until the arrival of the U.S. Army in nearby Wellington Point in 1943 and the beginning of a thriving trade in fresh young chicken and other produce. Prior to the arrival of the "Yanks" we lived pretty much at a subsistence level: the dairy cows, fowl run, cropland, fruit trees and house garden supplied our main food needs except for speciality items, bread and red meat which were bought on "town" day. This was the day of the week when Dad and Mum took eggs and other produce to Brisbane in the utility and returned with more than a full load of poultry and stock feed. The utility was a 1928 Buick which began life as a soft-top four-door sedan before Dad had it converted (probably in 1934) to a load-carrying vehicle by having the old rear half of the body replaced with a wooden well/tray. It was extraordinarily reliable and carried thousands of tons of freight and firewood over about 25 years, seeming only to require an occasional drink of petrol, shot of oil, and valve grind. We cannot remember it ever breaking down on the road. Dad bought it in N.S.W. in 1930 or 1931 as a repossessed car, probably for less than £100.
The impending visit of Aunt Ada and Uncle Edwin (Thom) in 1955 (en route India-England and retirement) meant a sedan just had to be bought - the front (and only) seat of the utility could take three at a pinch, but never four ! But Dad kept the Buick in service for several years after the 1950 Hillman Minx was purchased. It was eventually sold, complete with rear half, to a restorer of veteran cars.
Poor returns to farming prior to 1943 meant outgoings had to be kept to the barest minimum or deferred. Rates had to be paid, some clothing, shoes, petrol, oil and stock feed purchased (and electricity after about 1939 when the service was extended to Ormiston); but we had no telephone and there was virtually no expenditure on holidays, entertainment or liquor. Tools, appliances, a push bike and other "durables" were bought through Jack Gilmour at Butler Bros. (Wholesalers) and from other trade contacts, always at a hefty discount. Nothing was insured.
For all of this our childhoods were anything but deprived. Aside from plenty of good fresh food (and air!), the farm provided mango, custard apple and the Moreton Bay weeping fig trees to climb, and rivulets to dam after heavy rain. There was a swimming spot in Raby Bay about a quarter-mile from home as long as the tide was "in" and high and one didn't mind black mud and mangrove pneumatophores underfoot. The surrounding countryside was lightly settled and provided hundreds of acres to explore (and to pick mushrooms from, after spring rain). Dad had a small rowing boat built in Tweed Heads in 1946 which meant our adventure bailiwick was even further enlarged, Allan being the one most to benefit.
Money was also found from somewhere for lessons in piano for Jean and violin for Ted, over eight or so years, and later for Allan's university fees. The fact that one of Mum's sisters (Nancy) and her Mother ("Broo") lived with us immediately before and after the outbreak of World War Two respectively, and presumably paid board, would have helped. The wide verandahs of "Kirkhaven" and our temperate climate meant that sleeping space was never a problem. Ted and Allan in fact chose to sleep "outside" all year round, but under a mosquito net in the summer months!
Aunt Dot, Uncle Douglas's wife, also stayed with us for several months after her evacuation from Sumatra following the Japanese invasion of 1942. She is remembered very fondly although there was some apprehension prior to her arrival. Would she want a gin and tonic (or several) as the sun went down? A punkah in her bedroom? Or find bathroom arrangements inadequate? Instead she hopped right in and helped with household chores, Jean remembering that she would sweep up table crumbs after every meal, something never done up to that time, and that she always dressed in blue. She was missed when she left for Sydney preparatory to what proved to be a very difficult and tortuous return to the U.K.
Although our rural lifestyle kept us all fit and healthy by and large, dental attention was periodically required and an occasional doctor's visit necessary especially as Dad was never a very well person after his return from the First World War. Such professional services were provided by City friends who were paid in kind and had open invitations to Sunday afternoon tea and respite from the summer heat and humidity of subtropical Brisbane. Scottish-born Dr Buchan Webster (all a medico should be!) would take time off from his Camp Hill practice to come down and rest for an hour or two on our eastern verandah where a cool afternoon sea breeze was a virtual certainty. He once stayed for nearly a week. Our dentist and aspiring Brisbane City Council alderman, Clifton Leonard ("Thommo") Thompson, also enjoyed visiting with his family. A son, Arthur, improved Kirkhaven's electrical system from time to time. "Thommo" was a keen student of boxing and would invite Dad and Ted to join him on some Saturday nights at amateur bouts staged in the Festival Hall, Albert Street, City. Friendships and associations such as these compensated in part for isolation from kin and were important to Dad and Mum (who was never found wanting when it came to a supply of cakes and biscuits). To us children the professional contacts suggested a family background considerably more genteel than was the case for most of our farm neighbours.
The notion of higher social standing was reinforced by the trappings of Dad's bachelor days - Scottish golf clubs, fishing rods and reels, hip flask, fine double-barrel shotgun complete with leather case, binoculars, very early wireless, portable gramophone and classical records (particularly those of Richard Tauber) and leather top coat. There were large framed prints of Highland cattle on the shores of Loch Katrine at sunrise and at sunset and a photo of him beside a very smart bottle-nose Morris Cowley roadster, also framed. This car allowed him to court Mum in Toowoomba from Ormiston (about 90 miles) although it was barely able to conquer the Tollbar, the very steep gravel ascent to Toowoomba, and potholes apparently caused part of the suspension to spring loose.
Little is known about Dad's emigration to Australia. There is a suggestion he came out in his late teens either in charge of, or assisting with, a shipment of horses from the U.K. They were probably draft animals consigned to South Australia (or N.S.W.) because Dad is known to have had experience with sheep/wheat farming as a young man. (Milong, Young, N.S.W. was given as the intended place of residence on his discharge papers from the Australian Imperial Force (AIF) but it is thought he moved east from S.A. during the 1910s). He was certainly familiar with large farm animals and a competent lay veterinarian by the way he cared for our Clydesdale (there was no tractor) and dairy cows (which he bred). He owned a veterinary handbook to which he would occasionally refer should an animal be sick.
Virtually nothing definitive is known of the eight or so years he spent in Australia prior to enlisting in the AIF (May 1, 1916); or the seven years between discharge and the purchase of the Ormiston farm (April 7, 1926). The latter period must have proved a relatively prosperous one for him because he took a trip "home" in 1925 shortly after the death of his father (traveling on the same ship as Mum and her Mother and two sisters, both going and coming), arrived in Queensland with a smart car and purchased the Ormiston property outright the following year. It is likely that a first cousin - Alexander Ogilvie Gray who had been a draughtsman in West Africa (?Gold Coast) and the eldest child of Andrew Paton Gray, younger brother of Thomas Gordon and Chief Engineer, Ceylon Government Railways - helped Dad work the farm during the first year, prior to Dad and Mum's marriage on June 18, 1927, (although tennis with the Mackenzie sisters was apparently a preferred activity). It is also not known how Dad and Sandy (as Alexander Ogilvie was called) came to be together in southern Queensland at this time, except the locality was within striking distance for Dad from Toowoomba where Mum lived at the time (suggesting the return voyage from England in 1925 was not exactly uneventful!)
Sandy eventually lived 3 miles away in Wellington Point with his Scottish-born wife, Betty. We would visit them irregularly and during the '40s and '50s joined forces on some Saturday evenings to attend either the Star or Imperial picture theatres in nearby Wynnum. Sandy provided the transport as the Ford provided by his employer could carry seven (with Allan on someone's knee) - necessary in the earlier years with Jean and Ted both living at home. Apart from a very rare concert - for example, a Richard Tauber recital - these cinema outings provided all of our entertainment outside the home for a great number of years.
Holidays for Dad and Mum for more than two nights away were virtually impossible because of the demands of feeding and milking. Short visits to Toowoomba (to "Broo" and the Sherlocks), Cooranga North (to "Warranilla", a cattle property owned by Mum's sister and husband, Audrey and Hector Hoskin) and Byron Bay (to Phyllis and Joe Elkington, Phyllis a first cousin and close friend of Mum's) were the only ones from Ormiston we can remember.
There was, of course, entertainment at home: we children would have to practice and Mum occasionally found time to "tinkle the ivories". Jean also taught pianoforte after gaining her letters (Trinity College, London). Dad had a fine singing voice which was heard only in church (and almost only in St Andrew's at the northwest corner of the farm and reason for the Kirkhaven name) - and infrequently at that because he was not a regular churchgoer. Community Hymn Singing was a favourite Sunday night wireless programme _ for both parents.
Dad was an infrequent correspondent too, making it difficult to judge who among his brothers and sisters was favourite. From the stories of boyhood scrapes and adventures, however, it would have to be Andrew, older by nearly four years. (It is interesting to note that Eva has Cecile for a second name, hinting that these brothers were indeed very close friends). Allan suggests that Patrick, six years senior, was also a favourite. Jean and Ted certainly remember the large canisters of excellent tea he would send annually in the years prior to World War Two from Rajmai, Assam. These parcels provoked a great deal of local interest, the stamps providing a bonus shared by the older children.
Dad's infrequent letters were probably because Mum so much enjoyed letter writing. She had a real flair for it, as did her own Mother, a prolific communicator. Mum in fact was responsible for keeping the Australian "branch" in close touch with the U.K. core, largely by way of correspondence that was the result of her sending food parcels during and immediately after the war.
Family ties were also consolidated by an extended trip to England and Scotland by Dad, Mum and Allan between July '51 and June '52. (The farm was rented to the Gee family over this period). They were met by Uncle Gordon and Aunt Gladys off the boat train from the "Esperance Bay" after a voyage of nine weeks, protracted because of waterfront disputes in Australian ports.
A 1934 Morris Major was purchased in London during a month's stay at Herne Hill with Uncle Gordon and Aunt Gladys. It took them up to Scotland and back to see Uncle Pat and Aunt Janet, and Janet's parents, on their Torphins farm in Aberdeenshire; Uncles Alf and Douglas, Aunt Dot and family (Aberdeen); Janet's sister and husband in Glasgow; a memorable stay over Xmas with Uncle Andy and Aunt Lisette at Barrow-upon-Soar and later with Uncle Jim, Aunt Margaret and Cousin Isabel at Sileby and visits with other children (Peggy, Marie and Eva) and families living nearby.
Time spent with a number of Mum's relations in Derbyshire and Surrey in the early part of 1952 was followed by visits to Uncle Ron and Aunt Bobbie, and cousins Margaret and Kathleen in London; then a month on the Isle of Wight before the "Esperance Bay" was again boarded for the return journey.
Occasionally on a Saturday night Dad would visit neighbours Lindsay McDonald or George Foggitt for a chat (and probably a "wee dram" with the latter). Being an early riser with cows to milk before early morning tea and poultry mash to be mixed and fed before breakfast, Dad found a verandah bed a most desirable place after lunch. He would retire there most days to read the paper and then have a short nap before it was time to commence the afternoon chores.
Dad was a good trencherman with no particular food dislikes - except perhaps for skimmed milk which he called "blue lagoon". He was an inveterate drinker of tea which was enhanced for him by the addition of a spoonful of thick farm cream. He particularly enjoyed eggs on a Sunday night, either boiled or scrambled with the "works" (cheese, onion, bacon bits, etc!). He smoked both pipe and cigarettes, neither very heavily. He was always trying to quit, but was only moderately successful.
Dad never spoke of his war experiences to us children and was never a member of a veterans' club, although he invariably pinned a Returned Soldiers' badge to his lapel when going out. Having enlisted in the AIF in 1916, he spent nearly 3 years of his army service of 3 years and 5 months, overseas. He served in the 3rd Field Artillery Brigade of the 1st (Australian) Division and embarked at Sydney on HMAT A47 "Mashobra" on September 14, 1916 as part of reinforcements for Australian units significantly depleted after months of fighting on the Somme. It is not known if he spent the terrible winter of 1916-1917 in Belgium or France but it is likely he saw action at Ypres and Passchendaele and other places nearby, and later in southern sections of the Western Front.
Some of the medical problems Dad experienced during the decade or so before his death could well have been war-related. A congestive heart condition might, for example, have been caused originally by gassing. A connection was never formally recognised, however, and Mum was denied a War Widow's Pension.
Dad was a local Air Raid Warden for some years after the 1942 Japanese bombing of Darwin.
Life dealt some hard knocks to our much-loved Dad but he took them all on the chin and battled on with courage and dignity. He will always be remembered as a wonderful, kind, warm-hearted Father who is still sorely missed.
Contributed by his elder son Ted, with assistance from daughter Jean and son Allan.
With degrees in forest science and in economics, Ted spent 1952 to 1968 in Papua New Guinea with the forest service and latterly as leader of a World Bank project planning team. After studying the economics of natural resources with Ciriacy-Wantrup at Berkeley, California, and taking a Ph.D (Hilgard Scholarship, Resources for the Future Fellowship) he accepted an appointment as Associate Professor at the University of Guelph, Canada, in 1971. He retired to Kirkhaven in 1985 where he now lives with Isabel, his wife.
Jean lives in Singleton, New South Wales, with her husband James D'Arth, retired chemical engineer and metallurgist. She continues to play the piano and enjoys reading, gardening, bush walking and traveling. They live close enough to Sydney to attend most important cultural events held there.
Allan is a geologist who has worked with the Queensland Department of Minerals and Energy since he graduated in 1961. He is the senior author of a major analysis of petroleum in Queensland, the stratigraphy of the Great Artesian Basin and author/co-author of other scientific papers. He is married to Lee, lives close to Ted and Isabel at Ormiston and enjoys golf, tennis and especially fishing.
Ian Gray, a nephew, adds:
I remember Uncle Cecil's visit to us in London in 1925 when he was still a bachelor and being very impressed that a strange adult should so enthusiastically join Mary and me in a game of cricket in our small garden. My cousin Peggie also recalls that on the same visit he waded into the duck pond at Sileby to rescue her brother Angus (who would have been 6 at the time), who had fallen through the ice! She comments too on the good natured way he endured their tricks.