Alfred Gordon Gray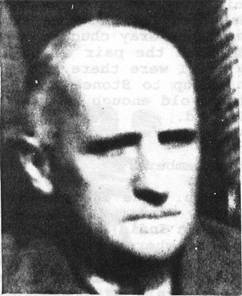 Aged 58
Alfred - known in the family always as Alf - was the second son; he became a railway engineer and in wordly terms was one of the most successful of the brothers. He was lame for much of his life as a result of a railway accident, became a widower twice and had no progeny.
He was born at Keabog in 1878, the year of the Congress of Berlin and in which incandescent electric light was invented. From the village school at age 12 he went for a short time to Robert Gordon's College in Aberdeen until he moved with his younger brother James as founder pupils to Mackie Academy when that opened in Stonehaven in 1893. From there he seems to have come under the patronage of 'Uncle Barnett', an uncle by marriage on his father's side who is thought to have been Chief Engineer on the Great North of Scotland Railway. Beginning with an apprenticeship, he trained as a civil engineer and during this time appears to have played rugby for Aberdeenshire, as did most of his brothers.
Having gained his qualifications, he moved to India where he was employed on one of the railways there, which was in the process of being established rising to being its Chief Engineer. (Which railway this was or why he chose India is regrettably not known).
In this appointment he had his own 'small train' (it was probably a railtrolley) for travelling which in 1910 was derailed. Alf was thrown out and the driver panicked and fled, leaving Alf on the line with a broken leg where he lay for several hours. When he was taken to hospital both his legs were tightly bound together to act as a splint and the consequent pressure on the nerves of the unbroken leg caused permanent damage, so that he limped on it for the rest of his life.
He had married Annie (Nan) Munroe in 1907 and they both came home after the accident and for most of 1911 stayed at Sileby under the care of his doctor brother James.
Whether or not this injury contributed to it or not, he retired early when he was about 50 and bought a plot of land at Bieldside on Deeside on which he supervised the building of a bungalow and garden to his and Nan's specifications. There he lived out his years playing golf several times a week - despite his limp he was a good player - and on Fridays meeting his cronies (including sometimes a brother) in the Caledonian Hotel in Aberdeen. He was interested in the financial market and either through his own acumen or as a result of good advice (probably both) built up a successful portfolio of investments. This was revealed after his death when in the absence of children of his own, he generously divided his estate between his nephews and nieces. He had, for example, shares in the Capitol Cinema, the first cinema in Aberdeen, and in Aberdeen Football Club, then very successful.
His wife Nan died in 1950 and in 1957 he married Ida Clouston (nee Spence), a widow. She and her first husband Dr D Clouston CIE had been very close friends of Alf and Nan in India. However, Alf and Ida had only four years together before she died in 1961. Thereafter until his death in 1967 at the age of 89 he was looked after by a housekeeper.
Contributed by Mrs Douglas Gray and Ian Gray.
Ian Gray, a nephew, recalls:
He was one of my Godfathers although because of distance I saw very little of him. He never seemed to move from Bieldside. Nevertheless, he always sent me a present on my birthday and at Christmas. However in 1936, my sister Mary and I were despatched on our own to Scotland to stay with several sets of relatives and family friends during our summer holidays and we spent a week at Bieldside. I remember Uncle Alf who was then 58 as of medium height, lean and stooped (curiously, I do not recall his limp). He was bald and weatherbeaten from days on the golf course and in the garden, and in his elegant clothes and manner - he used a cigarette-holder - had the style of what I now suppose was known as a pukka-sahib. Like all his family he had a keen sense of humour and the quiet Gray chuckle when amused. I remember too the ordered garden and the pair of Cairn terriers he and Aunt Nan kept. While Mary and I were there, Granny Gray died in London and my father brought her up to Stonehaven for burial in the family grave. I was considered old enough - just! - to attend the funeral and the meal that followed.
Margaret Crowther (nee Gray), a niece, also remembers:
I saw quite a lot of Uncle Alf in my youth. He and Aunt Nan were in fact very good to me. They took Granny Fraser (my mother's mother with whom I lived while my parents were in India) and me away on two holidays that I can remember. One was somewhere near Banchory and the other at Kincardine O'Neil. It was during one of those holidays that I met Uncle Lyall and Auntie Bet. I remember I could not take my eyes off him for although he was very tall he looked just like my father; and he in his turn looked long and hard at me because I looked like Ella. (It used to annoy me as a child when I met members of the Gray family and it always evinced the same remark 'Doesn't she look like Ella'. Why couldn't I just look like myself? Now I don't mind as Ella seems to have been a wonderful person!)
It was also during one of these holidays that I resolved I'd never play bridge - nor have I! Granny Fraser, Uncle Alf, Auntie Nan and someone else used to play bridge every evening after we had had our meal. The heated arguments, post mortems and 'what you should have played' etc. put one off for life!
Despite the fact that I used to go to see Uncle Alf and Auntie Nan at least every month while I was at home I do not think I ever knew him. One had to watch one's P's and Q's. He was very formal and I do not remember him ever really relaxing. I regret to say my visits to them in my teens were a chore. Had I known him when I was older things may well have been different as he probably found it difficult relating to children. I only saw him once when he was married to Auntie Ida and he seemed more relaxed and approachable. Of course, life must have been difficult for him before Auntie Nan's death due to her mental illness. He always came across to me as a fine man but unapproachable.