Adaline Maud Ogilvie Gordon Thom (nee Gray)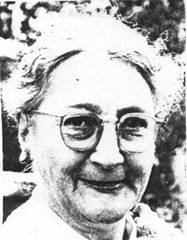 Aged 58
Ada, as she was always known (but Granny Thom to me), was born in 1897, the year of Queen Victoria's Diamond Jubilee. She was the fourteenth of the Keabog Grays but only the fourth daughter.The 'Ogilvie' among her given names probably stems from her Aunt Isabella Jane Ogilvie Davie (nee Gray) and was not accorded to any of her siblings.
Like her brothers and sister Muriel she went to the village school and then to Mackie Academy which she left at the age of 15. However, her early years were coloured by the need to help her Mother with her ailing Father and she lived with them at Keabog and at Oak Villa in Stonehaven before moving to London with her Mother shortly after her Father died in 1924. She was then 27.
Soon after coming to London she met her husband-to-be, Edwin Thom, who came from Dice, Aberdeenshire, through relatives of his who were living locally. He was on leave from India and after what must have been something of a whirlwind courtship, they were married in 1926 in Travancore, South India, where he was working as a Tea Planter. She helped run the estate and did all the books for him. She was always a good organiser and an excellent letter writer – two skills which she retained all her life. I have two wooden chests which still have her hand-written contents list of all the linen that was sent out. My Mother Kathleen was born in India in 1929 and went to school there during the war years as it was felt to be safer for her, although she had begun her education in England, spending holidays with relatives.
When Grandpa Thom retired in the 1950s they returned to the U.K. and bought a house in Tunbridge Wells which they named 'Glenbervie' after the estate on which Keabog stood and the name of the village school she had attended.
Granny Thom was very houseproud and kept a very neat house, whilst Grandpa Thom kept his garden and vegetables in similar order. I believe that they travelled to Canada in 1967 as I can recall Quebec and Expo '67 being mentioned frequently. They never owned a car as far as I can remember. Granny would send Grandpa into town for the shopping - he never took a list but always remembered everything!
Granny was of small stature and only had size 3 feet; notwithstanding this she had a huge collection of shoes. She was a great knitter and loved embroidery and her needlework was often in evidence. She and Grandpa played a lot of Bridge and made many friends through the game. Granny also liked to play Patience and taught me many different varieties. She loved listening to the radio. She also enjoyed watching the birds at the birdtable in the garden - cursing at the squirrels pinching the bread and the foxes attacking Grandpa's vegetables!
My earliest recollections of her in this connection were when she would ask me to clean out the bird bath on the terrace, taking a kettle of hot water and a scrubbing brush. She also often spent time showing me the traps she set for wasps - a jam jar filled with water with a blob of jam in it and some cellophane with a small hole in it stretched across the mouth of the jar and secured with a rubber band.
She was a great cook and often made chutney and marmalade. She called potatoes "tatties".
When Granny and Grandpa ever went away, I remember that all the silver was put in the loft in an empty, disused water tank.
Granny Thom was always very kind and patient. It was a great shock to me, and of course to my Mother, when she died suddenly on 11th March 1979, having never to my knowledge been ill.
Contributed by Ian Franklin, her Grandson.
Her daughter Kathleen met his father Thomas Franklin (Tommy) in Istanbul when she was working for Shell as a Secretary and he was employed by Reckitt and Colman following War service in the County of London Yeomanry (Sharpshooters) in the Western Desert where he was taken prisoner. They subsequently lived in Uganda before settling near Bury St Edmunds. Ian's father died in 1982, his Grandfather Thom in 1983 and his mother at the early age of 60 in 1989.
Ian Gray, a nephew, writes:
She was one of my Godmothers and I regret not seeing more of her than I did; but she was mostly in India in my youth and I was abroad for much of the time she lived in Tunbridge Wells. Nevertheless I saw her on sufficient occasions to recall her rather severe old fashioned appearance, bespectacled, with her hair done up in a bun. I remember too, in contrast to her apparent seriousness, her good sense of humour and her bursts of infectious laughter. She seemed to rule Uncle Edwin but I suspect that when it mattered, he was the boss. Their house was always a model of polished tidiness and I too remember well her meticulousness in domestic matters; for example, her puffing and piling up of cushions overnight - a practice I may say copied in my family since! She was always very kind to me and never forgot to send me a present on my birthday and at Christmas.